Combine Hunting the Northern Lights with an unforgettable dinner prepared over an open fire and served in a Sami lavvo beneath the Northern Lights.
Included
Guided hunt for the Northern Lights
Hot chocolate/coffe/tea and snacks
Two coursed dinner served in a Sami Lavvo
Thermo suit and over shoes if necessary
Assistance with your camera to enable you to take Northern Lights photos

Pick up:
Scandic Alta (Former Rica Hotel) at 7pm
Thon Hotel Vica at 7:10pm
(from 15/3 pick up at 8pm and 8:10pm)

Duration 4,5 – 6 hours
(All times are adjustable)
Show more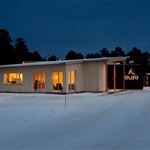 Rooms and apartments
Distance: 4 km
The new and modern apartment is ideal for anyone who would prefer quiet and peaceful days in the pine forest in the countryside rather than staying in the town centre. You can relax and unwind in a peaceful setting where life and the time keep the same pace.