Snowshoeing and Ice Fishing
Date: Monday 1 nov 2021 - Friday 15 Apr 2022
Show map
This is a four and a half hour snowshoeing trek out in Alta's forests. During the trip we try ice fishing and eat lunch prepared on an open fire at GLØD's wilderness camp just outside Alta.
Duration: 10am – 2:30pm (4.5 hours)
Included
Guided ice fishing adventure
Snowshoes
Thermo suit and over shoes if necessary
Lunch prepared on open fire
Transport

The scenic snowshoe trek to the camp takes us through beautiful and peaceful pine forests surrounded by high mountains.
The wilderness camp has an idyllic location beside a small lake, which has always had excellent fish stocks. But catching these big, nice fish is not always an easy task!
If we are lucky, we will eat fresh, self-caught Arctic char for lunch. If not, we will grill the delicacies we have bought on an open fire.
The area has a rich animal life, such are hares, foxes and moose, as well as bird such as eagles and the rough-legged buzzard.

Bring your camera, as there are many photo opportunities!
Show more
Book now - choose start date and product
Cabin
Distance: 4 km
Make your accommodation an experience in itself! At GLØD Explorer you get to experience glamping in Arctic Finnmark, wild nature, fantastic food, and activities that suit everyone, summer and winter.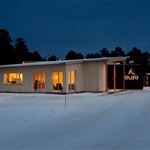 Rooms and apartments
Distance: 4 km
The new and modern apartment is ideal for anyone who would prefer quiet and peaceful days in the pine forest in the countryside rather than staying in the town centre. You can relax and unwind in a peaceful setting where life and the time keep the same pace.