Snowshoeing and Husky
Address: Jordfallet 3, 9518 9518
Date: Monday 1 nov 2021 - Friday 15 Apr 2022
Show map
Address: Jordfallet 3, 9518 9518

The main aim of this exciting three-hour snowshoe trek is to have a close-up experience of the silent Arctic nature.
We will be joined by one of our three Alaskan Huskies – Javri, Phelps or Lund – to help pull or carry the gear.
Duration: 10am – 1pm (3 hours)
Included
Guided snowshoeing experience
Snow shoes
Thermo suits and over shoes
Hot chocolate/coffee/tea and light expedition lunch
Transport

We will see traces of the ice sheet that was several hundred metres thick here 10,000 years ago and learn about the plant life and the history of Alta and the Alta River. We look for tracks and signs of foxes, hares, moose and eagles and, if we are really lucky, we will even see them.

Snowshoeing is a fun and easy activity and is a great way to explore the snow-covered Arctic landscape. We take a break during the trip and make an open fire, brew tea, coffee or hot chocolate and prepare a small expedition meal/snacks.

Join us on a fascinating snowshoeing adventure in the Arctic nature!
Show more
Book now - choose start date and product
About this activity
Contact person email
Website
Price information
Price NOK per adult 1050,- / NOK per child 750,- (0-11y)
Cabin
Distance: 31 meters
Make your accommodation an experience in itself! At GLØD Explorer you get to experience glamping in Arctic Finnmark, wild nature, fantastic food, and activities that suit everyone, summer and winter.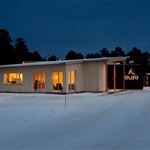 Rooms and apartments
Distance: 31 meters
The new and modern apartment is ideal for anyone who would prefer quiet and peaceful days in the pine forest in the countryside rather than staying in the town centre. You can relax and unwind in a peaceful setting where life and the time keep the same pace.