Snowshoeing - Glød Explorer
Address: Jordfallet 3, 9518 Alta
Date: Wednesday 9 dec 2020 - Thursday 15 Apr 2021
Show map
Address: Jordfallet 3, 9518 Alta

We offer two different snowshoeing adventures.
We will be joined on both trips by one of our three Alaskan Huskies – Javri, Phelps or Lund. They will help pull or carry the gear as well as providing nice company.
Snowshoeing and Husky (3 hours)
One of the aims of this adventure is to experience the Arctic nature, where the landscape is formed and created by the glaciers that covered the region 10,000 years ago, and by the weather and wind throughout history. We will also experience the tracks of wild animals, including the King of the Forest, the moose, and other animals such as hares, foxes and squirrels.

We also take a break and light an open fire to brew tea, coffee and hot chocolate.

Snowshoeing and Ice fishing (4.5 hours)
This snowshoe trek takes us out to our wilderness camp where we try ice fishing on a frozen lake and enjoy lunch grilled on an open fire and served in a Sami lavvu (herdsmen's tent).

Naturally enough, the nature, flora and fauna also plays an important role on this trip.
Show more
Book now - choose start date and product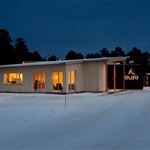 Rooms and apartments
Distance: 0 meters
The new and modern apartment is ideal for anyone who would prefer quiet and peaceful days in the pine forest in the countryside rather than staying in the town centre. You can relax and unwind in a peaceful setting where life and the time keep the same pace.
Cabin
Distance: 0 meters
Turn your accommodation into an adventure! In our stylish Aurora Dome, you are so close to nature that you hear the squirrels and small birds outside and even see them through the big window.